And, learn about how one of the largest men's health movements began.
Finally summer is upon us! And, with that comes backyard parties and celebrations! Here in Boise we love outside living and what better way to kick it all off than with a Father's Day BBQ! Let's show the dads and awesome men in our lives a little love with some of their favorite things – bbq'd food, beer and plain old chillin' in the backyard.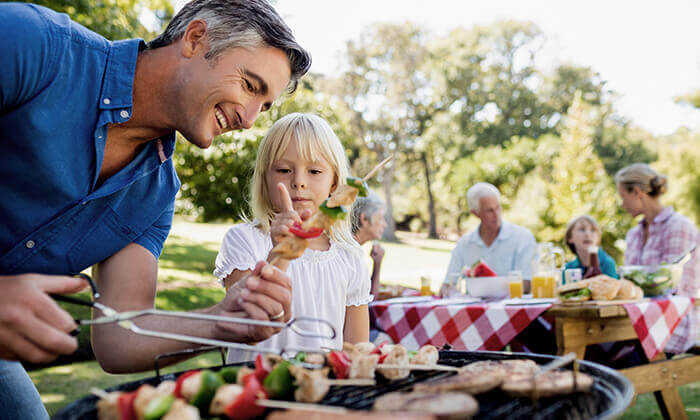 According to a survey of 775 dads by Zagat, when the restaurant review guide asked where dads wanted to go for their holiday, it discovered to their surprise that 52 percent of dads said they just wanted to relax with their families on Father's Day. Dads overwhelmingly like to eat out the rest of the year.
So, armed with this intel, invite your friends and family over for a day of relaxation, and make sure you get in on some of that R&R also by having an easy-to-follow plan. Don't overcomplicate things; just a little planning and you are sure to show the dads in your life how much they mean to you. Follow these tips and enjoy your day together:
Father's Day Tip # 1: Keep the party simple.
Don't overdo it with decorations at a BBQ. Add some balloons in your father's favorite color or use numbers and words to spell out #1 Dad. Also, make sure you have enough seating for everyone to relax, eat and converse. Set up your patio furniture or lay out a few picnic blankets. Don't forget to have lights available once the sun goes down. Try stringing some lights or adding candles and lanterns to your centerpiece. Oh, and if your Dad likes to take a mid-afternoon siesta than have a place for him to put up his feet and relax, a hammock is perfect for this.
Father's Day Tip # 2: Menu Favorites.
Pick easy, classic recipes to fill Dad's tummy. The Zagat survey found that 56 percent of Dad's favorite meals involves something grilled. So, grab your favorite meat and light up the grill. Create a twist on the classics like hamburgers by using new flavors to entice Dad's palate. Finish the menu out with a few side dishes like corn on the cob, rosemary potatoes and string beans with cherry tomatoes and almonds. If you have a smoker or a pizza oven in the yard plan a menu around that.
Father's Day Tip # 3: Drink Up.
What drink goes better at a BBQ than beer? In fact, Dad's favorite beverage to drink is beer at 37 percent according to Zagat, followed by something non-alcoholic. Make sure to grab the beer, ice and fill the coolers. You may also include white or rose wines or wine-spritzers for a refreshing option. Make sure to have enough water on hand or brew some ice tea and make lemonade for other party-goers.
Father's Day Tip # 4: Play "Old" Tunes.
Keep your party guests in a great mood all afternoon and evening long with an eclectic, feel-good mix of classic rock, Southern soul, 90's hip-hop, and upbeat pop classics. As long as the music makes you smile and dance, it should do the trick.
Father's Day Tip # 5: Yard Games.
Set up a game of croquet, horseshoes, corn hole, bocce ball, or badminton in the backyard and play a friendly game with your family. Or if you have a pool enjoy spending the day lounging with your Dad, play a game of Marco Polo or have a chicken fight in the water.
Most of all, enjoy your day together. Happy Father's Day!
While we are celebrating the wonderful men in our lives, let's think about men's health. Check out how this worldwide movement, that raised $126 million for prostate cancer research last year, began through this entertaining Ted Talk (added plus, we LOVE listening to his accent?wink):
Are you in need of a new home in Boise with a great backyard? Let us help you out! Call Templeton Real Estate Group @ 208.473.2203. We will work for you! We are a small yet highly skilled real estate team with decades of area expertise, service, property pricing, and negotiating. We are passionate about providing our clients with the best real estate experience available. Our office is located in East Boise's beautiful Bown Crossing, just steps to Boise's Greenbelt. You can learn more about the Templeton Real Estate Group by reading what our clients say about us, on Realtor.com or contact us today to schedule your complimentary and confidential consultation. We can also sell your house faster and for more using the latest marketing and our beautiful and complimentary in-house staging expertise!
Source: http://toritoth.com/fathers-day-backyard-bbq-party/
https://www.ted.com/talks/adam_garone_healthier_men_one_moustache_at_a_time