Every year Sherwin Williams (SW) selects a color of the year and this year's pick goes to "Oceanside."
SW describes their choice as:
A collision of rich blue with jewel-toned green, a color that is both accessible and elusive, Oceanside SW 6496, is a complex, deep color that offers a sense of the familiar with a hint of the unknown, Oceanside, bridges together a harmonious balance of blues and greens that can be found in what's old and new.
The color blue evokes a multitude of moods and associations depending on hue, shade and application. Despite this variety, blues are universally perceived as intelligent, honest and interesting—making blue the most beloved color worldwide.
Oceanside's multi-dimensional, marine-inspired look can create a welcoming statement as a lively color for a front door. Its green-meets-blue tone can also boost creative thinking and clarity of thought in a home office, or invite meditation and introspection into a bedroom or reading nook.
Oceanside is universal when it comes to design style from mid-century modern to Mediterranean-inspired, traditional to contemporary.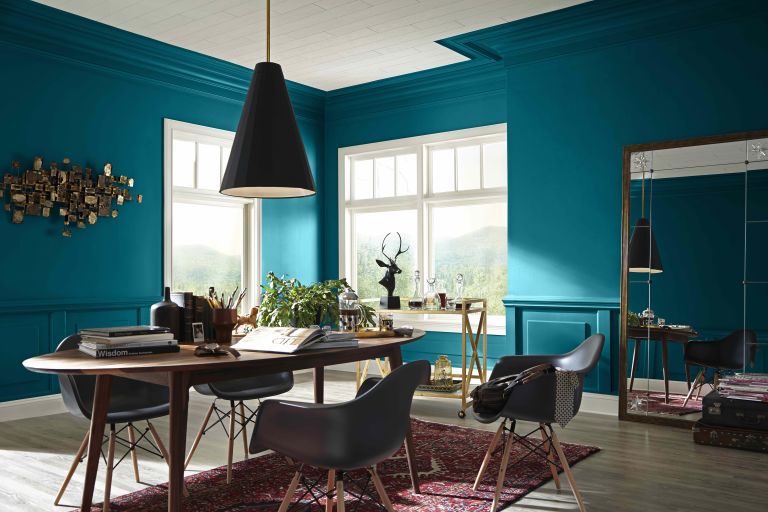 Neutrals were all the rage for several years, but it seems that people are looking for ways to express themselves through more color. According to colorpsychology.org, color stimulates our brain, and from the ancient times has proven to be useful alternative psychotherapy. The Egyptians and Chinese used colors to heal, a process that is known is chromotherapy. Colors were used in order to help the body function better.
People in the design industry are fans of Sherwin-Williams' foray into more statement-making picks, too. "I love a color that's also a state of mind — that's what Oceanside feels like to me," says Editor in Chief of House Beautiful, Sophie Donelson. "It's a cocoon color. We often see similar hues chosen for libraries and studies, because its depth makes it comforting, but also bold and adventurous. It's like watching a Nature channel deep-sea exploration from the comfort of your sofa!"
Get inspired:
If you need some new walls to paint with this fabulous color, call Templeton Real Estate Group today! We are your expert East Boise team. Schedule your complimentary and confidential consultation – 208.473.2203.
We'll sell your home fast and help you find your dream home. And, as our client, you receive the pinnacle of service — FREE home staging services from our accredited team, top notch marketing and professional photography, along with skilled representation that gets results!
Templeton Real Estate Group — the best team in Boise!
By Bonnie Way Snider
Sources and Read More:
https://www.colorpsychology.org/
http://www.housebeautiful.com/room-decorating/colors/news/a9761/sherwin-williams-2018-color-of-the-year/
https://www.sherwin-williams.com/homeowners/color/find-and-explore-colors/paint-colors-by-collection/color-forecast/color-of-the-year