Low Inventory + High Demand = More Cash for YOU!
Homes in Boise and all over Ada County are in high demand, as the latest market research shows. According to Boise Regional Realtors, the low inventory combined with the rate of pending sales resulted in an 11.8% year-over-year decrease in months supply of existing homes for sale in Ada County.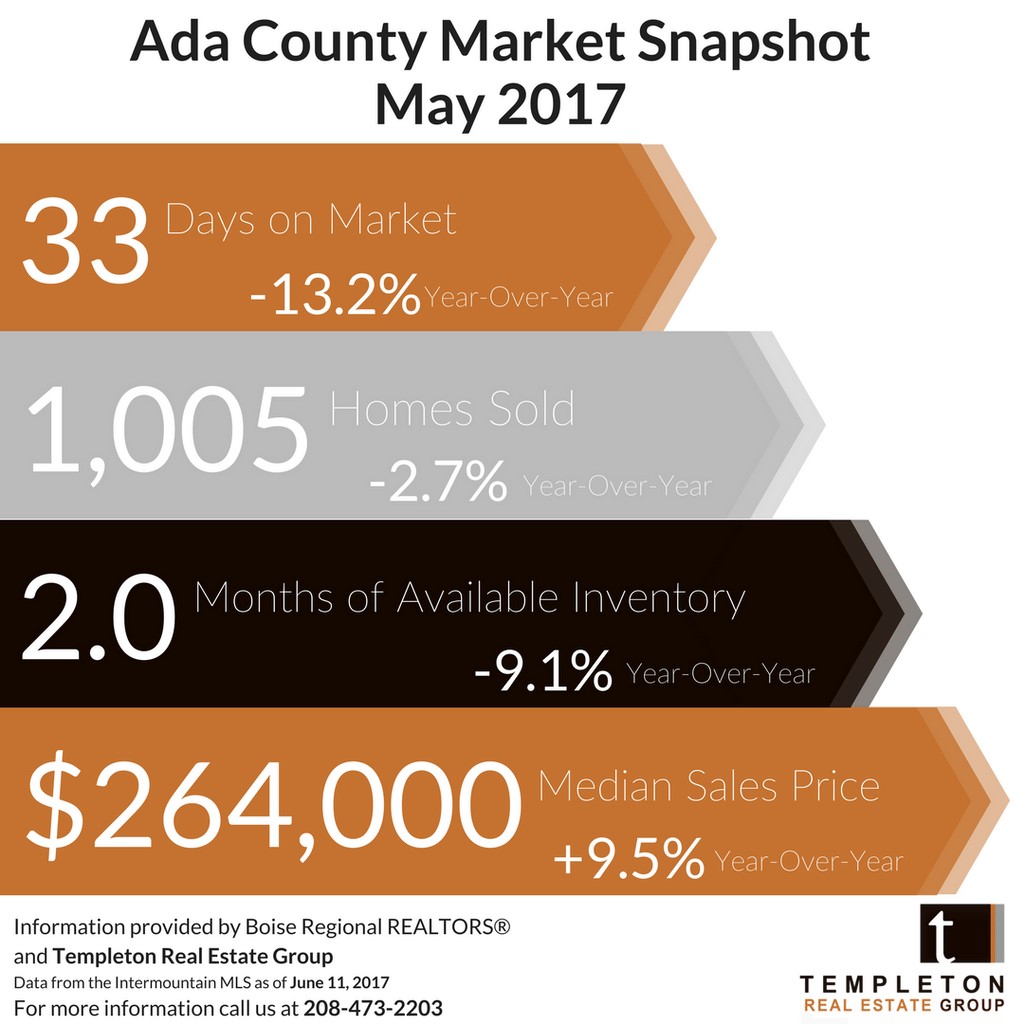 Inventory of existing homes is tight compared to last year (down 15.3% in Ada County compared to May 2016), and based on monthly averages going back to 2004, homes that close in June, July, and August typically fetch the highest prices.
More existing homes — especially priced under $300,000 — are needed to keep up with buyer demand.
BRR shared that while there is a shortage of inventory overall and in the lower to middle price points, there is more inventory available priced above $500,000, in both existing and new construction. For those homeowners who are able to move up in price point, they likely won't feel the same supply constraints as buyers in other price points.
Inventory could potentially be freed up by homeowners who might sell without the need to buy locally. For instance, people moving out of state for work or other reasons; those who own single-family rentals and no longer want to be landlords; and, again, those who can move up in price point.
If you want to cash in on some profits, call your East Boise Real Estate experts, Templeton Real Estate Group—208.473.2203 or visit us via our Website!
Comparing numbers from May of this year to May of 2016, median sales prices in Southeast Boise are up 16.3% over what they were last May ($269,900 : $232,000), and for Northeast Boise, a whopping 21.2% ($472,575 : $389,900)!
Don't take our word for it, read what our clients are saying about us. We offer high-end marketing with your listing, which includes professional staging by our full-time accredited stager.
We will make your house shine above the rest.
We will work hard for you.
We will get you top dollar.
Additional information about trends within each county, by price point, by existing and new construction, and by neighborhood, are now available in the May 2017 Market Report. This report includes an explanation of the metrics and notes on data sources and methodology.
Have you been to East Boise lately? Come see what all the buzz is about and take in the breathtaking scenery and wildlife found in the Boise Foothills, the Boise River and Greenbelt. Lucky Peak Reservoir, Barber Park and Marianne Williams Park. In addition, how about the great neighborhood eateries such as (our home) Bown Crossing's Bier 30, The Tavern, Boise's Fry Company and Locavore, as well as Harris Ranch's Lucky 13 and a soon-to-come coffee shop! East Boise also offers great schools and a fabulous new Library. Homes in this area are diverse and range from the well-established in the Warm Springs Mesa area, River Run, and Wood Duck Island neighborhoods to the modern and traditional options found in Harris Ranch and River Heights.
By Bonnie Way Snider
Source: