We know that East Boise is a great place to live. And, now that our secret is out, growth in this part of town is inevitable. Harris Ranch and the Barber Valley as a whole are currently under construction with new structures going up on every corner. We appreciate all we have at our fingertips to enjoy, including the Boise River, Boise Greenbelt, and our beautiful Boise Foothills. Whether walking, hiking, jogging, biking, or just appreciating the views, these are Boise gems and treasures of our Valley. And, a large reason why builders like Boise Hunter Homes and Brighton Corporation are developing the area with new homes and mixed use/commercials sites.
Recently though, residents have come together to oppose a proposed development slated for 3555 E Warm Springs Avenue.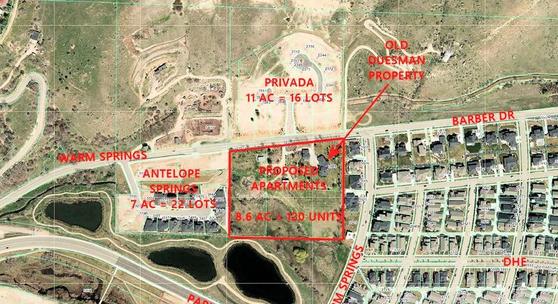 The applicant, JKB Construction Management, is requesting to rezone 8.65 acres located at 3555 E Warm Springs Ave from A-1 (Open Land) to R-2D/DA (Medium Density Residential with Design Review and Development Agreement). Also included is a conditional use permit for a 125-unit multifamily residential development. The applications were originally scheduled for public hearing on May 8, 2017. On May 4th, the applicant's representative requested deferral to June 12th. The request was to explore alternative designs and address the concerns listed in the original project report in hope of receiving a favorable recommendation from the Planning Team. On May 22nd, a revised design packet was submitted to the City. That same day, the packet was uploaded online and Parties of Record were notified via email.
The development, named Barber Hill Vistas, calls for 13 single-family houses, 11 live-work units, eight townhomes and more than 90 apartments between Warm Springs Avenue and ParkCenter Boulevard.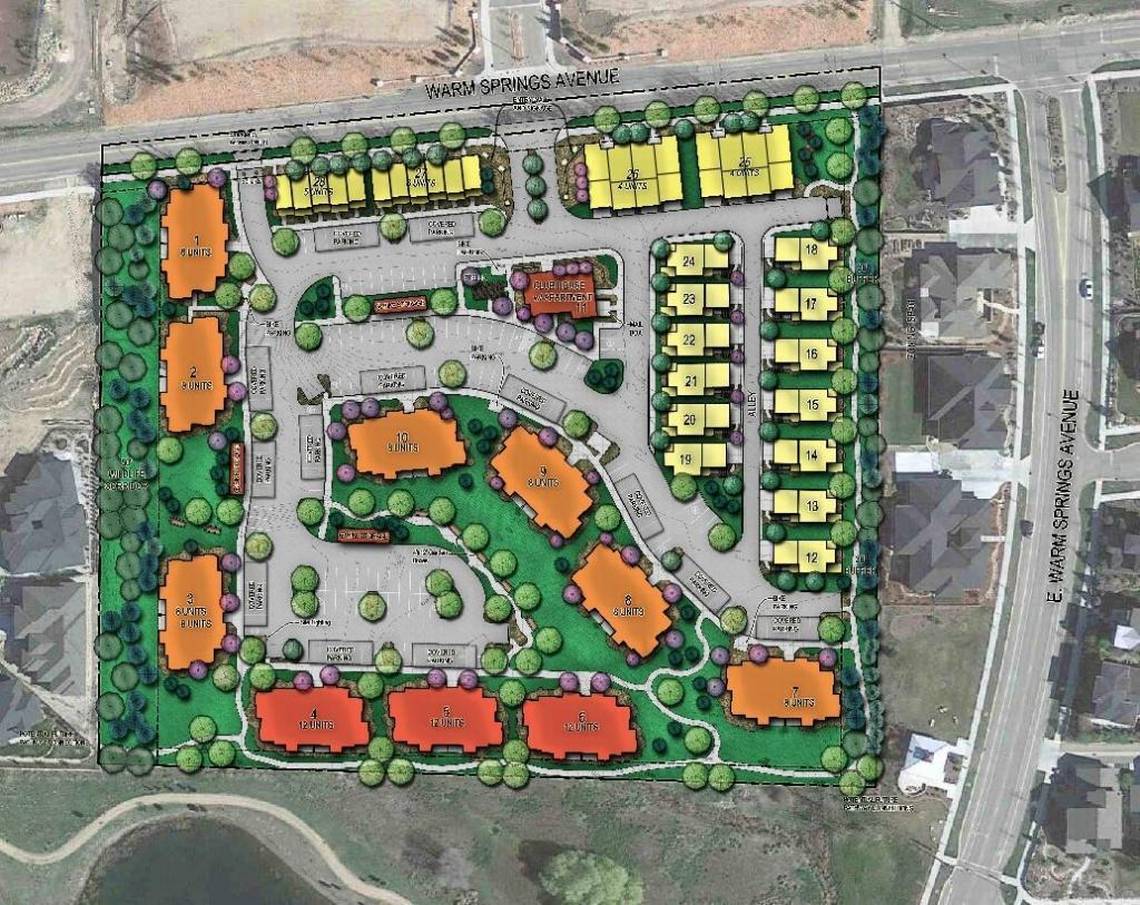 The major concerns, though not limited to these, pertain to the density of the design and the lack of open space preservation in a wetland area. Neighboring residents have voiced concerns over how the development will impact traffic flow and overflow to schools as well as how the plan fits with the overall development plan for the Barber Valley.
Subsequently, the Planning Team reviewed the revised application and concluded that the revised plan has not addressed several concerns from the original project report. Based on the reason statement included in the project report, the Planning Team maintains the original recommendation of denial of both applications. On June 12, the full Planning and Zoning Commission agreed with the staff recommendation, and voted unanimously to deny the developer's request.
The full staff memo may be read here.
Next step?
The developer has appealed Planning and Zoning's action, and a public hearing before the Boise City Council is set for August 29th.
Come Take a Look
If you are interested in East Boise, give Templeton Real Estate Group a call @ 208.473.2203 or visit our Website! Hear what our clients are saying about us We combine our years of professional experience in staging, redesign, marketing, and client care with our expert real estate knowledge of the area, resulting in the most profitable sale for our sellers and a hassle free experience for our buyers.
Brief History of the Barber Valley and Harris Ranch Area
[Excerpt from Ellie McKinnon's November 21, 2015, Special to the Statesman, History, Serenity in eastern Boise]
In 1902, James Barber built a lumber mill by the river, and a whole town developed there that carried his last name. In its heyday, railroads converged there to pick up loads of lumber grown in Idaho forests and milled in Barber.
Half a century or so later, Dallas and Alta Harris acquired land in the area and eventually established a cattle ranch. Dallas envisioned the area as the future site of a village occupied by families committed to the same ideals he cherished — preservation and stewardship of the environment. He drafted a plan in 1976 and, decades later, dreams have evolved into a very real legacy. Harris Ranch bills itself as a 1,300-acre development that "strikes a careful balance between new development and the protection of the environment, wildlife habitat and historic values in the Barber Valley," according to its website.
by Bonnie Way Snider

Sources and Read More:
http://pdsonline.cityofboise.org/pdsonline/Documents.aspx?id=201706051118343130
http://www.idahostatesman.com/living/article45877590.html#storylink=cpy
https://pds.cityofboise.org/media/307816/barbervalleyspecificplan_1-10.pdf
http://idahoptv.org/outdoors/shows/foothills/chuckmcdevitt.cfm
http://www.idahostatesman.com/news/local/community/boise/article157093994.html