We love living in East Boise and all it has to offer. Though we are seeing a lot of growth in recent years, we still have the Boise River, Boise Greenbelt, and our beautiful Boise Foothills to enjoy. Whether walking, hiking, jogging, biking, or just appreciating the views, these are Boise gems and treasures of our Valley. And, a large reason why builders like Boise Hunter Homes and Brighton Corporation are developing the area with new homes and people are moving here from out-of-state.
You know who else enjoys the Foothills and the Boise River? Our wildlife! In fact, the Boise River and Boise Foothills corridor is critical to the well-being and migration of area wildlife. And, while we all want to live here, we are vastly reducing wildlife habitat and migration corridors for our furry, hairy and feathered friends.
The Department of Fish and Game believes a functioning wildlife corridor maintained in the Maynard Gulch area that connects upland habitat in the Boise River Wildlife Management Area with floodplain habitat along the Boise River in the Barber Pool areas is critical. That connection currently exists, but poorly planned development between the Foothills and the Boise River could damage or destroy it. Migration corridors along Warm Springs Avenue need to be considered for wildlife to safely access the Boise River.
How You Can Help
You can do your part to join the efforts of your neighbors and the Barber Valley Neighborhood Association (BVNA) to preserve a small part of our Foothills.
Come to learn more and get the full details about proposed future use, and see just how important this property is to adding a quality of life amenity for the entire Barber Valley and beyond:
Meeting on Wednesday, April 5th, 7:00 PM @Harris Ranch Mill District Clubhouse (4057 S. Mill Site Ave.)
The drive to help keep our hills open by buying the 25 acre Ramaker property is off to a very promising start. Fundraising began with the BVNA Board kickoff on March 9 when 100% of the Board pledged various amounts reaching 14% of the goal. On March 14, River Heights neighbors contributed another 20%. Since then, additional pledges from throughout the Valley have been made taking it to 36%. On March 27, a pending sale status was reached and both the seller and broker/realtor contributed towards the campaign with the largest pledge thus far. There has been a very collaborative relationship with the seller. The fundraising goal must be reached by May 26. The BVNA is asking you to please come join the team! This is an extraordinary opportunity for Barber Valley and all citizens of Boise to make a difference that will last beyond many, many lifetimes.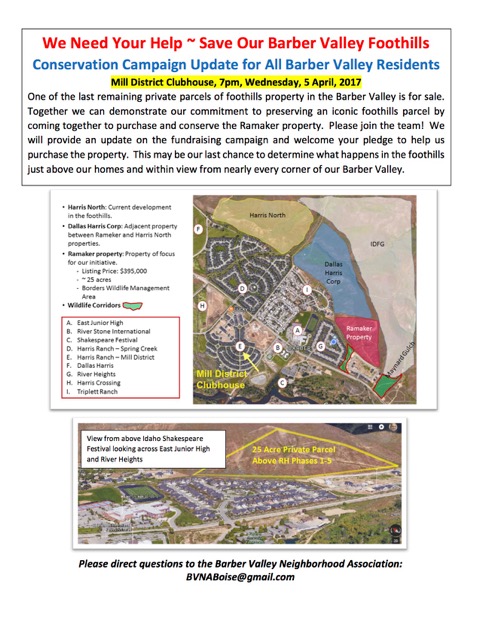 Why Should You Help?
Perhaps Chuck McDevitt, former Foothills Conservation Advisory Committee chair and past member of the Parks and Recreation Commission of Boise, said it best in an
Idaho Public Television interview
with Joan Cartan-Hansen about preserving open space in the Boise Foothills, "I think if you are going to enjoy the banquet of life, every once in a while you've got to do some dishes and this is doing some dishes, as far as I'm concerned. This is some payback for what my kids, my family and I have enjoyed."
Brief History of the Barber Valley and Harris Ranch Area
In 1902, James Barber built a lumber mill by the river, and a whole town developed there that carried his last name. In its heyday, railroads converged there to pick up loads of lumber grown in Idaho forests and milled in Barber.
Half a century or so later, Dallas and Alta Harris acquired land in the area and eventually established a cattle ranch. Dallas envisioned the area as the future site of a village occupied by families committed to the same ideals he cherished — preservation and stewardship of the environment. He drafted a plan in 1976 and, decades later, dreams have evolved into a very real legacy. Harris Ranch bills itself as a 1,300-acre development that "strikes a careful balance between new development and the protection of the environment, wildlife habitat and historic values in the Barber Valley," according to its website.
[Excerpt from Ellie McKinnon's November 21, 2015, Special to the Statesman, History, Serenity in eastern Boise]
by Bonnie Way Snider, April 4, 2017
Sources and Read More: http://www.idahostatesman.com/living/article45877590.html#storylink=cpy
https://pds.cityofboise.org/media/307816/barbervalleyspecificplan_1-10.pdf
http://idahoptv.org/outdoors/shows/foothills/chuckmcdevitt.cfm