We know the scenario: You got married, bought your first house together, lived blissfully with your spouse in said house until…dun dun duuun…the pets and the kids came. Then, your once serene master bedroom became the real-life Minecraft jungle tree house and you can no longer invite friends over because it would take a search party to find a couch under the blanket fort in your living room.
So, you wonder aloud each night, after the kids are in bed, "Should we buy a bigger house?" You dream about how much better your life would be if you just had a bonus room for the kids to play in and store all of their toys. You fall asleep with visions of tidy spaces in your head….
If this sounds like your life, perhaps you should consider these things to help you decide if it's time.
Ask yourself these questions:
Can I afford it?
A bigger house or better neighborhood usually means more money. You may be comfortable with your current mortgage payment, but can you handle a larger one? Also, a bigger home means more floors, rooms and outside areas to clean and maintain. How will that affect your budget? Will you have to give up certain expenses or cut back on certain "luxuries" like vacations or going out?
Like you did with your previous home purchase, create a budget for the monthly mortgage payment and homeownership costs, such as general maintenance if you buy a single-family home or homeowners association fees if the neighborhood has one.
Are my finances in good shape?
Depending on when you last bought a home, getting a mortgage may be harder than you remember. Lenders will closely review your income, debts, assets and liabilities, to make sure you don't exceed the maximum debt-to-income ratio. Hopefully you didn't do any damage to your credit since your last home purchase. The most competitive interest rates (the 5 percent you may have heard about) only go to buyers with credit scores above 700.
Can I sell my house?
If you own your current home outright (meaning you don't have a mortgage or any liens) or you have enough cash to cover the purchase of a new home without depending on the profit from selling your current home, then good for you. But if you're like most people, you need to sell before you buy — unless you're prepared to carry two mortgages. Hopefully you'll make a sizable profit from the sale and can use it to cover the upfront expenses on your new home, including the closing costs, down payment and moving expenses.
How is my life going to be different?
Changing houses — even if it's for the better and absolutely the right thing to do — can be unsettling, and it's an intangible that any homeowner should consider. Brandon Green, a real estate broker/owner in Washington, D.C., has an interesting observation about moving into a bigger, better house.
"It sort of changes your social status a little bit, you know, when you move into a bigger house," he says. "You're growing up. And that can have somewhat of a subtle impact on your friends and family and how they think of you, and maybe even what you end up doing, if you end up moving into a nicer neighborhood. It's more than just a house. You're making an upgrade."
And that upgrade came in the form of less clutter for Wendy Bumgardner, 50, a hospital administrator and writer, and her husband, Richard, 62, a microbiologist.
The couple traded up from a 1,700-square-foot house in Portland, Ore., to a 2,778-square-foot place in Vancouver, Wash. During the two decades they lived in the smaller house, they had accumulated a lot of furniture and knickknacks and Bumgardner appreciates that the larger home accommodates all of that.
"It's a great relief to have enough space so we can have tidy storage, plenty of space for our office, an exercise room and a guest room," says Bumgardner. "Whereas before our house was always cluttered, now I can welcome unexpected visitors without any need to tidy up. It's easy to keep everything in its place when there is a place for everything."
The Cost to You
Future and present homebuyers dream of a white picket fence or a tire swing in the background, but nobody really swoons over the idea of a bigger utility bill. But there's no avoiding it.
A larger house means a larger utility bill. If you have a longer driveway or a bigger yard than before, you may need to purchase a snow blower or lawn mower, or pay more to have it maintained. You may feel like you have to buy additional furniture, now that there are voids of emptiness in rooms. And don't forget about taxes.
Dawn Templeton, an East Boise real estate expert and owner, along with husband Mark, of Templeton Real Estate Group, believes that now is a great time to buy a house in Boise.
"The market is booming with tons of growth in the city and real estate can be a great investment for your financial future." Dawn added, "Buying a home that fits your needs is both a financial investment and an investment into the happiness of your family."
The House for You
Sometimes, space is not the issue. You may just need a house with a different layout than the one you have now. Maybe you are looking for a more open floor plan, or a larger yard for your dog and kids to run around in.
Or, you may want a neighborhood that has a pool and clubhouse. Another consideration, you may want to move to an area with public schools you like for your kids, or be close to outdoor recreation, etc.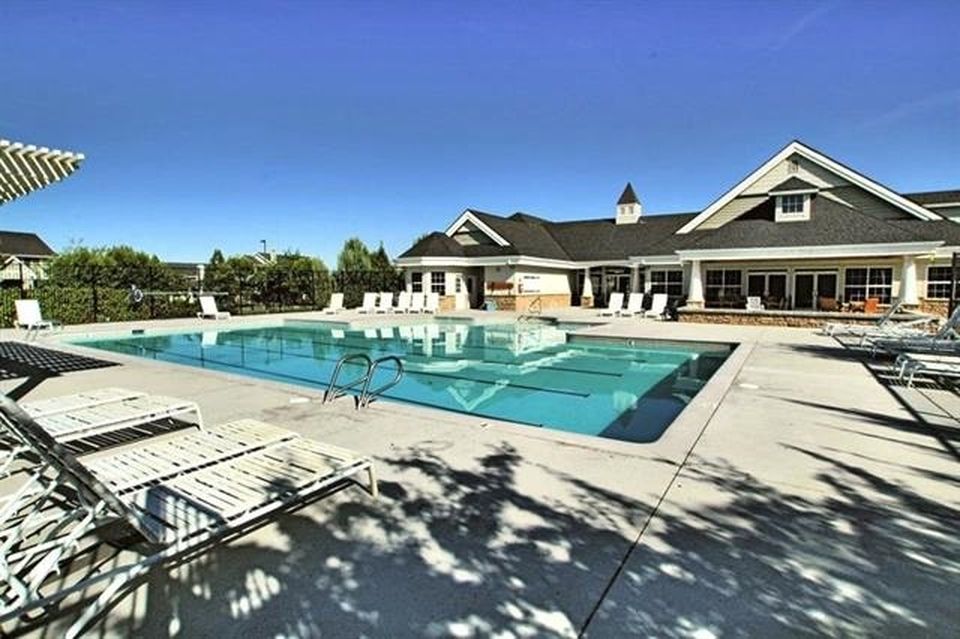 Harris Ranch Mill District Club House
Perhaps you are on the other side of the spectrum — your kids have grown and moved out of the house, and now you would like a smaller house…with no yard. Patio homes have become popular alternatives to condos as they offer the privacy of a single dwelling, but include the outside yard maintenance.
No matter what your needs and desires, be sure to hire a great realtor who knows and understands the area you are interested in.
Looking for an awesome place to live? Come check out East Boise and everything that makes it great — Boise River, Boise Greenbelt, and our beautiful Boise Foothills. Whether walking, hiking, jogging, biking, or just appreciating the views, these are Boise gems and treasures of our Valley. And, a large reason why builders like Boise Hunter Homes and Brighton Corporation are developing in Harris Ranch and River Heights with beautiful new homes.
Here's an example of East Boise living — this house has been sold, but there's more like this — enjoy the experience!!
What are you waiting for? We'd be happy to show you around!
Templeton Real Estate Group offers free and confidential consultations. We can offer you our decades of expertise and answer your questions to help you decide if you are ready for a 'better' house.
Call us today at 208.473.2203 or via the web. With every listing we offer a complimentary staging service that, combined with our marketing expertise, we'll see your house fast and for more.
By Bonnie Way Snider
Read More and Source:
http://www.hgtv.com/design/real-estate/how-to-know-you-re-ready-for-a-bigger-house