We all know that the kitchen is the hub of the house. It always has been. A gathering place for friends and family, no matter if it's the kids talking about the day's events on any given weeknight or a big Saturday celebration with friends—everybody congregates in the kitchen. Perhaps that's why 'kitchens sell homes.'
So, it's great we've started giving this important room some love. Whether you are going to live in your house a while or you are selling, having an updated kitchen will reap you rewards.
While decorating our family rooms, dining rooms and bedrooms with the most current design trends, we should also be including our kitchens! Gone are the days of drab brown cabinets. Painted cabinets have completely changed the look of kitchens—from muted tones to rich navy blues and emerald greens, to two-toned—the options are endless.
Neutrals
Stephanie Pierce, director of design and trends at MasterBrand Cabinets, said, "Whites and grays fall into this category, but so do taupe tones and even deeply saturated colors. Taupe tones continue to make an impact in kitchens as opaque or painted finishes are trendy and highly versatile. The varying shades range from a warmer off-white to khaki and pick up undertones of green or blush depending on how they are being used."
Neutral paint colors work well with most design styles. They also are safer color choices because they easily complement and blend with other tones used in a kitchen, such as flooring and accent colors.
Popular neutral colors to consider for your cabinets are Sherwin-Williams Alabaster SW7008, Creamy SW7012, Accessible Beige SW7036, and Steamed Milk SW7554.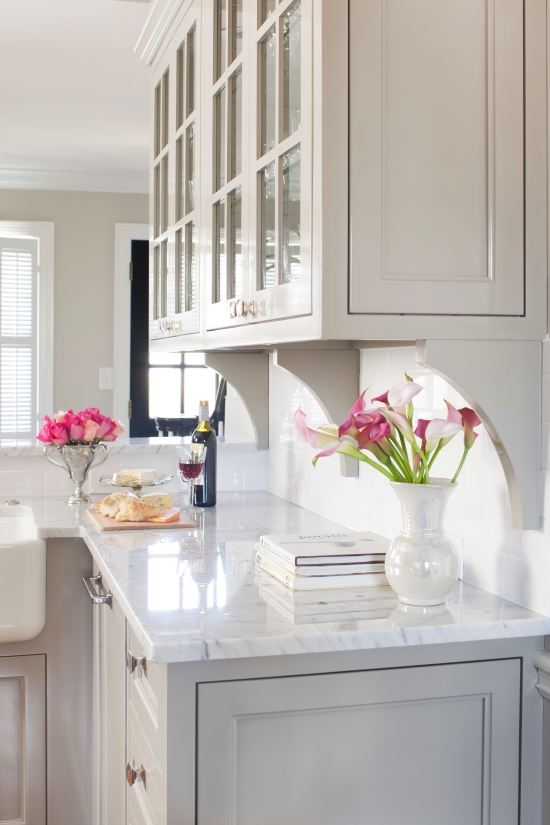 Terracota Design Build Company
Colors
Deeper cabinet paint colors have been a popular trend this year as well, says Sue Wadden, director of color marketing for Sherwin-Williams. Shades like navy, silted teal, dark gray, and rich brown have surged in popularity this year and work best paired with white or neutral walls for contrast.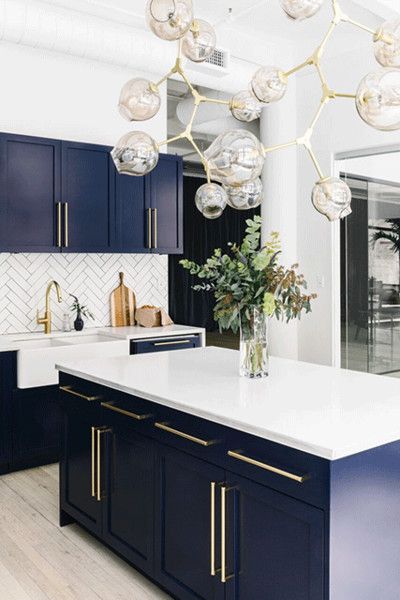 When using a deeper hue, choose a color with a balanced mix of warm and cool undertones, which will help in complementing surrounding undertones and colors throughout the kitchen.
Popular deeper colors to consider are Sherwin-Williams Naval SW6244, Salty Dog SW9177, Aqua-Sphere SW7613, Spalding Gray SW6074, and Black Fox SW7020.
If color is your thing, your kitchen can reflect the personality of your home by adding a fun backslash or cabinet hardware. Since painting cabinets can be time-consuming and costly, you may want to avoid trendy or bright colors unless you know you will want to live with it for quite a while. And, if selling your house in the near future may be a possibility, cabinetry is harder to change out than a backsplash or wall paint would be. Less expensive and easier still, you can spice up your kitchen with some colorful counter stools or table chairs. You can also add pops of color with a tea kettle that lives on the stove, artwork, table runner or linens dotted throughout your space.
Most importantly, design and decorate your kitchen with things and colors that make you happy. Kitchens don't have to be all business. While you're cooking a meal or baking up your next yummy treat, you'll also reward yourself with some eye candy!
Kitchen Trends
Think Outside the Box!
Looking for an awesome place to live? Come check out East Boise and everything that makes it great — Boise River, Boise Greenbelt, and our beautiful Boise Foothills. Whether walking, hiking, jogging, biking, or just appreciating the views, these are Boise gems and treasures of our Valley. And, a large reason why builders like Boise Hunter Homes and Brighton Corporation are developing in Harris Ranch and River Heights with new homes and commercials sites. Call Templeton Real Estate Group today @ 208.473.2203 or via our website and find out how easy it is to find your dream home.
by Bonnie Way Snider

Sources and Read More:
http://www.bhg.com/kitchen/cabinets/styles/kitchen-cabinet-paint-trends-281474979643363/?utm_source=bhg-newsletter&utm_medium=email&utm_campaign=decorating_070517&did=157801-20170705