Thereal estate market is hot in Boise right now…so if you are thinking about selling, how do you make your house stand out above the rest and sell quickly? With rising values and reduced inventory in our market, buyers are making decisions quickly, so making a good first impression is imperative.
Exterior improvements can return an average of 95.5 percent at resale. This includes new vinyl siding, paint, and an updated front entry. While these updates are not cheap, if you recoup the costs with a sale, and a fast sale, we think they are worth it. According to HGTV, the average national cost to replace 1,250 sq. ft. of vinyl siding: $7,239. Average return: $6,914, with a recoup rate of 95.5 percent. A gallon of paint covers 400 sq. ft. of house, and you can head to any home improvement store to find paint color cards that will take the guesswork out of choosing the right color combination for doors, trim and siding. If your house was painted before 1978, test for lead before sanding or scraping. Upscale, fiber-cement siding costs $10,393 and returns $10,771 at resale, an even better recoup rate of 103.6 percent
And, if you're wondering what the best paint color is to sell your house fast? Well, it depends who you ask, but most seem to agree with this thinking: "Neutral and traditional colors are a good bet if you are going to paint your home's exterior to get it ready to sell," says Elizabeth Mendenhall, a realtor in Columbia, Missouri, and a 2014 regional vice president of the National Association of Realtors. "You want a look that is warm and inviting. Unique colors may turn away some potential buyers."
The wise course is to consider which exterior paint colors are going to attract the broadest range of buyers. If you're painting for resale, give some thought to these five exterior house paint colors with undeniable curb appeal:
"The color you paint your home's exterior can make or break people's perception of your house," says Erika Woelfel, director of color marketing for Behr Paints. A trio of Behr colors created this traditional look: Hazelnut Cream (750C-2) as a base, accented by Gallery White (PPU12-12) and Dark Truffle (PPU5-19).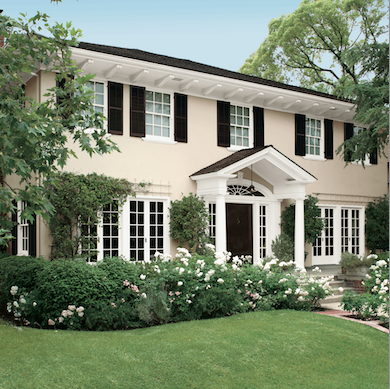 Photo: behr.com
—–
"We're seeing a lot of putty, warm taupe, and gray hues—exterior house colors that blend in with the natural surroundings," reports Amy Elbert, senior architecture editor for Traditional Home. "Inspiration might come from stone used in the home's foundation or on walls and walkways on the property."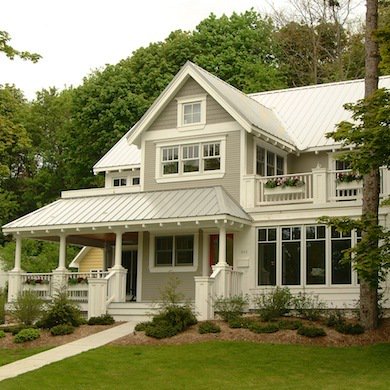 Photo: searsarchitects.com
—–
In keeping with the natural trend, Jackie Jordan, director of color marketing for Sherwin-Williams, reveals that Tony Taupe (SW 7038) is one of the company's most popular choices among neutral exterior paint colors. "Sticking with classic neutrals is a good way to play it safe when planning to put your house up for sale," Jordan says.

Photo: sherwin-williams.com
—–
Ever since Ron Sonnek, president of Sicora Design/Build, in St. Louis Park, Minnesota, posted a picture of this renovation on Houzz.com, he has received "literally thousands of requests for this paint color!" And what is the magic combination? Benjamin Moore Copley Gray (HC-104) trimmed with Benjamin Moore Elephant Tusk (OC-8).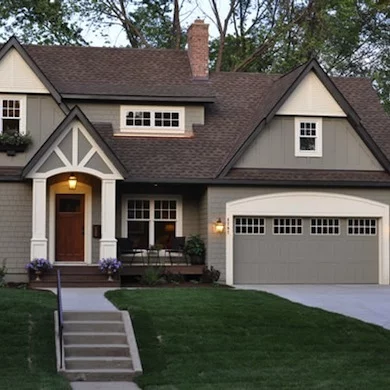 Photo: sicora.com
—–
A white clapboard farmhouse is an American icon with timeless appeal. For the renovation of the one pictured here, designer Amy Hendel considered many exterior house colors but ultimately, she chose Benjamin Moore Cloud White (967). "It's not a stark white, but has creamy yellow undertones that would complement any style of home," she says.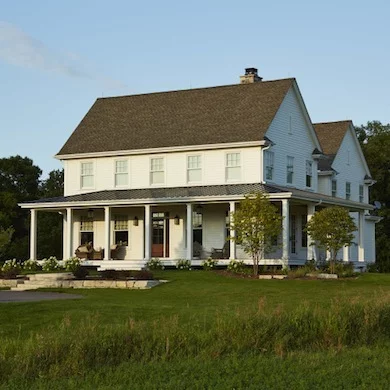 Photo: hendelhomes.com
Here are some tips on how to choose your exterior color:
For the interior of the home, according to USA Today, the best paint color for a quick home sale is…. white. For those thinking of selling, the appeal of light, brighter spaces can enrich the feel of a home. Consider it a clean palette for a buyer.
White is the foundation that anchors the home," said Friley Saucier, a broker associate with Sotheby's International Realty in Naples, Fla. "This is absolutely what is most requested when I'm working with home buyers."
However, you will want to research your market to see what homes recently sold and the color schemes used in those properties. Mimic the color scheme to create one cohesive look in your home. Note that every market will have different dominant colors buyers prefer based on the area's style and the lifestyle buyers are looking to lead. For example, a den in a trendy city loft could have black walls, while the same room in a farmhouse wouldn't be best suited with black walls, unless it was a chalkboard painted accent wall.
And, if you are thinking about selling, give Templeton Real Estate Group a call. We offer a free and confidential consultation. With every listing we offer a complimentary staging service that, combined with our marketing expertise, will sell your house for more. You may not need to spend a lot in improvements to sell…staging may be all you need to make your house shine. We are TOP BOISE REAL ESTATE agents who know Boise real estate. Call us today at 208.473.2203 or via the web.
By Bonnie Way Snider
Read More and Source:
https://www.bobvila.com/slideshow/8-exterior-paint-colors-to-help-sell-your-house-47419?bv=relss#.WXt8cojyvIU
https://www.usatoday.com/b47ebba7-f8f1-4468-8ec4-a71b1cfba85d