On August 29, 2017, the Boise City Council denied developer J. Kevin Brunk's (JKB Construction Management) proposal to build more than 100 apartments and 20 single-family homes at 3555 E Warm Springs Avenue (an 8.65-acre parcel located to the west of Dallas Harris Estates, Harris Ranch in East Boise).
As reported in The Idaho Statesman:
Brunk said he would go back over the proposal with the city's planning staff in hopes of finding changes that will make the project acceptable to planners and the council.
He said that they'll "probably tweak it more than a little" but that he didn't know what kind of changes he ultimately would propose.
"But we'll be back," Brunk said.
City planners believed it didn't include enough open space on the interior of the lot, specifically on its southwest corner, where Brunk's team wanted to put up several buildings and dozens of apartments. Planners also wanted to see more walkways or other pedestrian-friendly infrastructure inside the development.
The Planning and Zoning Commission recommended denial of the project in June. Brunk's team appealed that decision to the City Council.
Dozens of neighbors spoke at Tuesday night's hearing, and almost all of them opposed the project. Many predicted a traffic disaster if the project were built as proposed. Some worried about decreasing property values, especially for the homes closest to the development.
Council members said design, not density, was the reason they objected to the project. Councilwoman Maryanne Jordan said a high-density project might work in that location if it met the guidelines for the nearby Harris Ranch and Barber Valley neighborhoods. Though the lot in question lies outside either of those neighborhoods, Boise law requires similar design standards, such as de-emphasized parking areas and front-oriented buildings.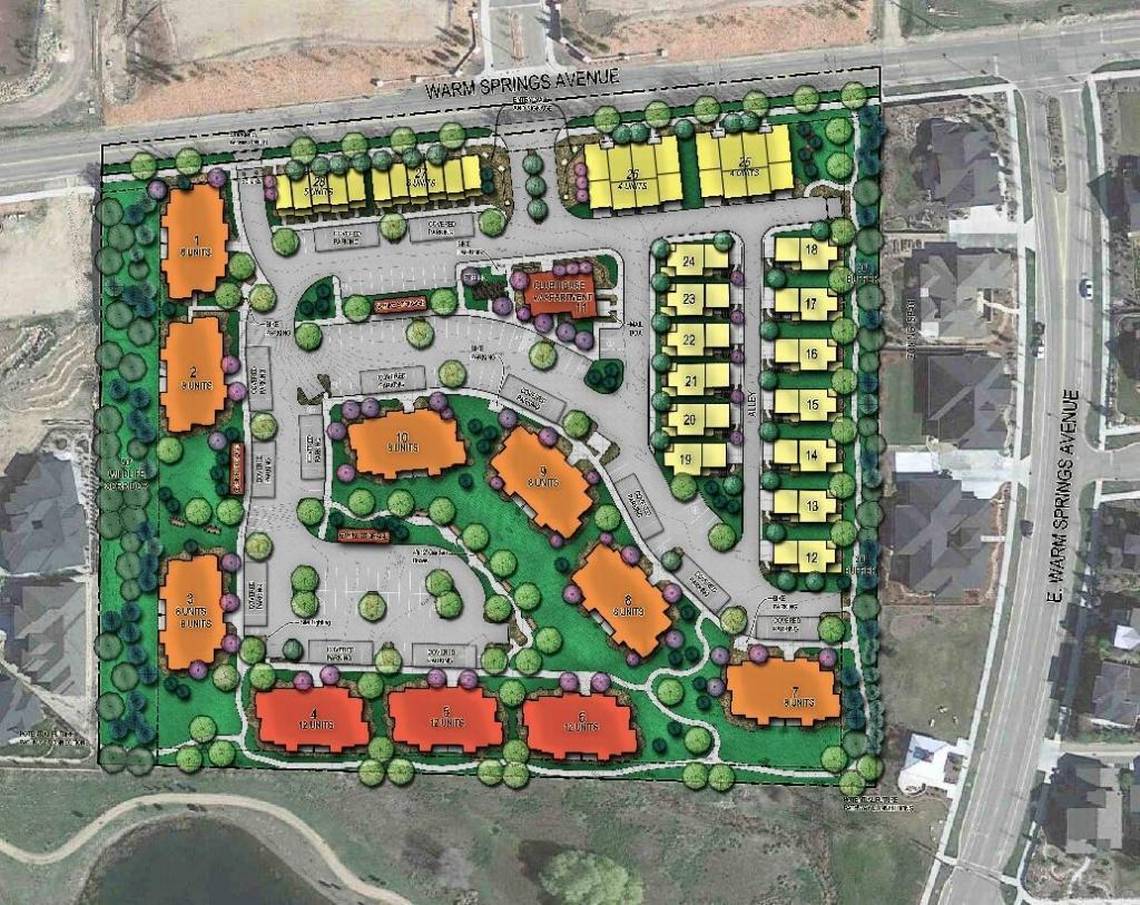 Want to watch the hearing? Use this link to connect to Boise City Council Meeting 8/29/2017 6:00pm : scross down to last item on the agenda:
8120 : CAR17-00004 / JKB Construction Management / Rezone of 8.65 acres from A-1 (Open Land) to R-2D/DA (Medium Density Residential with Design Review and Development Agreement).
CLICK HERE to read blog Boise City Council to Decide on Fate of East Boise Development originally posted on June 28, 2018.
Brief History of the Barber Valley and Harris Ranch Area
[Excerpt from Ellie McKinnon's November 21, 2015, Special to the Statesman, History, Serenity in eastern Boise]
In 1902, James Barber built a lumber mill by the river, and a whole town developed there that carried his last name. In its heyday, railroads converged there to pick up loads of lumber grown in Idaho forests and milled in Barber.
Half a century or so later, Dallas and Alta Harris acquired land in the area and eventually established a cattle ranch. Dallas envisioned the area as the future site of a village occupied by families committed to the same ideals he cherished — preservation and stewardship of the environment. He drafted a plan in 1976 and, decades later, dreams have evolved into a very real legacy. Harris Ranch bills itself as a 1,300-acre development that "strikes a careful balance between new development and the protection of the environment, wildlife habitat and historic values in the Barber Valley," according to its website.
by Bonnie Way Snider

Sources and Read More:
The Idaho Statesman, Sven Berg: 208-377-6275, @IDS_SvenBerg http://www.idahostatesman.com/news/local/community/boise/article170142997.html
City of Boise, City Council – Summary of Meeting Minutes:
http://pdsonline.cityofboise.org/pdsonline/Documents.aspx?id=201706051118343130
http://www.idahostatesman.com/living/article45877590.html#storylink=cpy
https://pds.cityofboise.org/media/307816/barbervalleyspecificplan_1-10.pdf
http://idahoptv.org/outdoors/shows/foothills/chuckmcdevitt.cfm
http://www.idahostatesman.com/news/local/community/boise/article157093994.html