Buying Real Estate is a time-honored great investment for your future. In fact, if you are in it for the long-term, it may likely give you the largest return on your money. And, doesn't it make 'cents' to pay your own monthly mortgage payment versus paying somebody else's mortgage in rent here in Boise?
Of course, the largest hurdle for many is coming up with a down payment. However, there is help out there for first-time home buyers. Programs are set up to help buyers get over the hump of a large down payment and closing costs. And, if you are selling your current home to move up, consider hiring a real estate company that uses the best marketing tools and staging to earn you top dollar for your home. The more profit you make from your existing sale, the more you can put down on your new, dream home!
So, what are some of the fears people face when buying a home? The Home Buying Institute conducted a study and here are the results: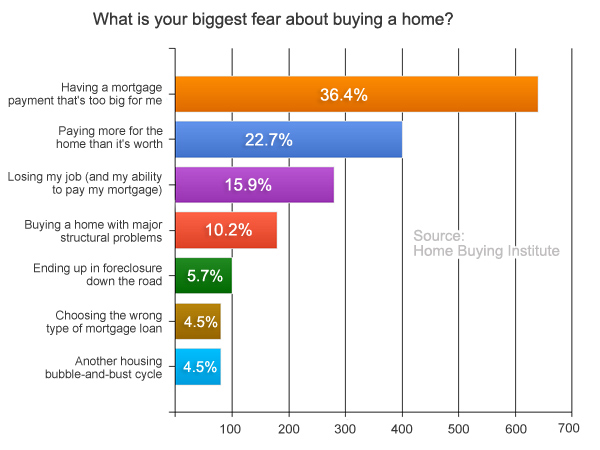 As shown above, the responses broke down as such:
36.4% said they were afraid of ending up with a mortgage payment that's too big.
22.7% feared they might pay more for a home than it's worth.
15.9% were afraid of losing their jobs after taking on a mortgage loan.
10.2% were concerned about buying a home with major structural problems.
4.5% were afraid of choosing the wrong type of mortgage loan.
4.5% feared another housing bubble-and-bust cycle.
Let's Tackle Some of These Home Buyer Fears:
Brandon Cornett, publisher of the Home Buying Institute, explained his company's motivations for running the survey. "More than anything, we wanted to identify the knowledge gaps among our readers. By understanding what scares home buyers the most, we are better able to publish meaningful content. We can write articles and tutorials that address these fears."
If you're afraid of having a mortgage payment that's too large:
Home buyers who are concerned about an over-sized mortgage payment should establish a budget for themselves. By reviewing your monthly income and debt expenses, you can set a monthly limit for your housing costs. It's important to do this before you apply for a mortgage loan. Believe it or not, you can be approved for a mortgage amount that exceeds your comfort level. So do the math for yourself. Find out what you can comfortably afford to spend each month. You can learn more about mortgage affordability here and here.
If you're afraid of paying more than the home is worth:
Home buyers should know it's called an "asking price" for a reason. Just because a home is listed for a certain amount doesn't mean it's worth that much. Our research shows that many homes are initially listed above their market values. Call it wishful thinking on the seller's part. As a home buyer, the last thing you want to do is overpay for a house. It erodes your equity from day one. But this situation can easily be avoided. You should base your offer on recent sales in the area.
If you're afraid of losing a job (and your ability to make payments):
Double-income couples need to consider the impact of one spouse losing a job. If you can't cover the mortgage payments on a single income for a few months, you may be buying too much house. Make sure you have an emergency fund to protect you in such scenarios. This means having enough money in your savings account to cover up to six months worth of mortgage payments. The emergency fund is even more important for single-income families.
If you're afraid of buying a home with major flaws:
Every home buyer should pay for a home inspection. It only costs a few hundred dollars, and it gives you the peace of mind of knowing what lies beneath. A home inspector will slap on a pair of coveralls and get into the guts of the house. He will examine the foundation, the attic, the roof, and all of the installed systems (plumbing, electrical, HVAC, etc.). If there's a major problem with the house, a professional home inspector will find it. You can learn more about home inspections in this FAQ article.
If you're afraid of choosing the wrong type of mortgage loan:
Research is the key to success here. You should start by learning the key differences between adjustable and fixed-rate mortgages. This is where a lot of first-time buyers get into trouble, choosing the riskier ARM loan for a long-term stay. You should also consider the pros and cons of FHA home loans, one of the most popular financing methods today. You can learn more about the different types of mortgage loans on this page.
Buying a home can be one of the most exciting times of your life, and one of your best investments. Treat it seriously and do your homework. Knowledge and preparedness are power and will alleviate any fear! And, please call Templeton Real Estate Group—208.473.2203. Our years of expertise and knowledge will guide you through the process, selling and/or buying, and answer all of your questions! We are TOP BOISE REAL ESTATE agents who know Boise real estate.
12 Steps to Buying a House
By Bonnie Way Snider
Sources:
https://www.idahohousing.com/homebuyers/down-payment-closing-cost-assistance/
https://portal.hud.gov/hudportal/HUD?src=/states/idaho/homeownership/buyingprgms